Over the past few years, people have been opting for vinyl siding when it comes to choosing the perfect material for your home. Vinyl siding is not only gorgeous but gives a whole new feel to your house making it look attractive and highly practical.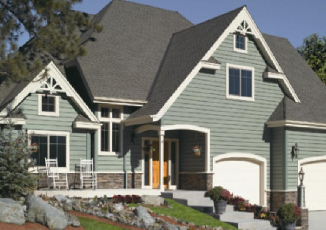 A survey in 2013 has shown that over 35% homes built in the US used vinyl siding and if this continues, vinyl siding will be on the top when it comes to exterior of the house. Vinyl siding done today is far more modern and advanced then back in the 1950's. There are so many different reasons why one should consider vinyl siding for their homes. Some of them are: Low Maintenance: When you choose the exterior for your home, you want something that will last a long time because changing the exterior of the house every few years can be expensive and troublesome. It is because of this reason that vinyl siding is highly preferred. It does not require painting every few months but if you clean it annually with soap and water you are good to go.
>> Durable:
If you decided to go with vinyl siding for your home, you made a smart decision because it has the ability to resist heat, moisture and cold. It can survive years of wear and tear, even harsh changes in the climate. Through all of the climate changes, it will manage to keep its original performance and appearance over a very long period of time. You will never find the vinyl siding in your home to be fading, cracking or rotting.
>> Easy Installation:
It is one of the easiest and effortless exterior claddings to install and is very light weighted as well. Vinyl siding can also be installed over existing material so there is no need to remove the previous one. Installation costs are very cost effective
>> Affordable and Safe:
If you want to save money, and have a great attractive looking house you should defiantly go for vinyl siding. Plus, it is one of the very few materials that is a good insulator when it comes to electrical and data transmission cables.
>> Diversity in Beauty:
Don't think that if you go for a cheap siding for your home, it will not have much variety to it. You can get a wide range of different textures, colors, architectural trim, profiles and other accessories. You also have the option of getting a vinyl siding that looks exactly like wood, slate or stone. These sidings are designed in such a way that they give a more elegant look to the house and homeowners will never find themselves compromising the beauty of their houses.
>> Sustainable:
Choosing vinyl siding means that you went for the green option. Its performance is far better than other exterior claddings which include brick.
When choosing to build a home for your family, it is smart to go with the best choices you can get. Vinyl siding is not only inexpensive, but has beauty to it, can be installed easily and saves the cost of maintenance.
Please Check our other Roofing and Siding Services: