With the rapid advancement in technology, people are provided with a number of different options to consider when it comes to choosing a new roof to be installed by a roofing contractor for their home or building. People have to choice from getting a rubber roof, metal roof, asphalt shingle roof and so on. Here we will take about Rubber roofing.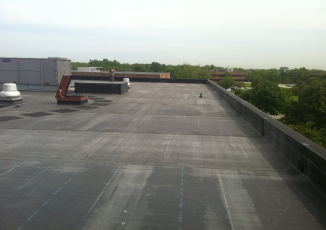 If you don't count home repair enthusiasts, almost all of the people dread the time when they have to get their roof repaired. Having a leaky roof can lead to damaging your house structure and if not given any importance immediately, you will end up with damaged possessions inside your house. In order to avoid going through the exhausting process of roof repairs, you might want to consider getting rubber roofing for your flat roof.
When using rubber roofing, EPDM is also installed along with it. Most of the people consider using WeatherBond RBR EPDM, which is the most popular, proven and tested single-ply membranes in the industry. These membranes provide long term durability and strength for any time of project, irrespective of its location or climate.
You are probably wondering what EPDM is and what does it have to do with rubber roofing. EPDM is an extremely durable and long lasting synthetic rubber roofing membrane. Rubber roofing is mostly known as an EPDM roof. There are a number of advantages that come with EPDM. Some of them are:
>> Cost effective:
Cost differs from region to region and installers, but it always prove to be favorable for the owner as it is much less when compared to other roofing types. Also, since rubber reflects heat therefore cooling costs in the summer are minimized and they are economically friendly.
>> Long Lasting:
Unlike other roofing materials, EPDM does not become useless or brittle with age as it has the ability to resist all of the changes in the temperature without even peeling or cracking, hence saving a lot of repair cost.
>> Environmentally Friendly:
In comparison to other membranes, it has less effect on the environment during its manufacturing. If you want to "go green" there is no better option for you. It takes very less energy while constructing and can last for over 5o years and even when it is replaced, it is 100% recyclable.
>> Water and Fire resistant:
Apart from the low cost, another advantage of EPDP rubber roofing is that it covers the entire roof area, eliminating any chances of a leak and is completely waterproof. Even if due to some unfortunate incident a leak appears, it can be immediately repaired at low cost. These roofs are also fire resistant and are nearly impossible to ignite and have the ability to actually delay the progress of fire.
>> Wide range of options:
EPDP rubber roofing shingles are available in a number of different colors and textures giving homeowners the option of getting a roof of their choice or have a traditional looking roof having the benefits of a rubber roof. They can even support rooftop gardens.
>> Easy to install, easy to remove:
Because of its light weight rubber roofs can be very easily installed and when the time comes to be removed, it won't take that much time or effort either. They can also be adapted into any shape or style and are friendly towards solar cell arrays.
Choosing the right home for your family is a big decision, so be sure to make the right one even if it as small as getting the perfect roof.
Please Check our other Roofing Services: