With the rapid advancement in technology, people are provided with a number of different options to consider when it comes to choosing a roof for their home or building. People have to choice from getting a rubber roof, metal roof, asphalt shingle roof and so on. Here we will take about Tapered Roofing Systems.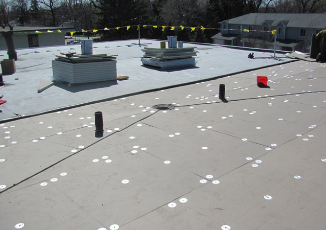 A tapered roofing system is turning your flat roof into a low sloped roof to allow the water to run to where we want it to go by the use of tapered insulation panels. We also use these tapered panels to direct water away from areas where we dont want water to be, such as up against walls, roof units, heat stacks, and corners.
When you start to see ducks and geese congregating on your flat roof it's a sure sign that it's time to give Osborne's Roofing and Siding a call to install a tapered roofing system. Our tapered rubber roofing systems are designed to ensure water moves from your roof area to the drains.
Osborne's Roofing and Siding can taper your roof without you having to go through structual changes, major or minor.
We offer 5 tapered systems with standard slopes available
>> 1/16 inch slope per foot

>> 1/8 inch slope per foot

>> 3/16 inch slope per foot

>> 1/4 inch slope per foot

>> 1/2 inch slope per foot

Each installation has its own needs. The input from the building owners, maintance personell, and our own expertise ensures that all of these needs are met. Your needs no matter how big or how small can and will be done through carefull planing, expert craftmanship, quality materials, and plain old experience in the tapered roofing bussiness.
Here is what Osborne's Roofing & Siding will do:
>> Remove your existing roofing material

>> Repair decking that we find not suitable enough to hold the screws we use.

>> Install new roof drains at existing locations, or we can add drains if needed.

>> Fix malfuntioning gutter systems.

>> Relocate wall scuppers if needed.

>> Install a tapered insulation rubber roofing system that will direct water flow directly into roof drains and taper around all units so water flows away for roof units.

>> Install all flashings, termination bars, seam tapes, water cut offs, vent pipe boots, electrical wire porable sealer pockets, plumbing pourable sealer pockets, drip edge, all roof protrusions will be flashed.

>> Install walk pads that allow service technicians to service roof units without causing damage to the roof.

>> Remove the roofing debris from your project

We will use the following materials
>> .060 commericial rubber membrane

>> Sheet sizes: 7'x50', 10'x50', 20'x50', 30'x 100'

>> All adhesives, primers, flashings will be certified for use by the rubber manufacture

>> Tapered insulation panels certified for use by rubber manufacture

>> Shop-fabricated sealer pockets and edgeings

>> Stress plates and screws certified for use by manufacture

>> Drains 3" or 4"

Warranty:
>> We will furnish a manufactures material warranty for your rubber membrane

>> We will provide a 2 year workmanship warranty.

>> We service what we sell

Do you have parapet walls and need metal capping? We provide that also.
Please Check our other Roofing Services: